Viewer for Revit Files: Why? is it free to a viewer for Revit files?
Autodesk Revit is a BIM software that offers a lot of BIM features and of them is BIM Modeling.
Particularly, Revit deals with the modeling and collaboration aspects of BIM, which allows architects, engineers, and construction specialists to collaborate and work together in creating and planning building designs in a digital environment.
So, being able to share and make Autodesk Revit models accessible to other users like stakeholders, team members, and clients is important.
But for some clients who don't use Revit find it difficult to visualize the 3D Model of the building. This is why Finding a Revit viewer is essential.
The best BIM IFC, RVT, and RFA Viewer?
An IFC (Industry Foundation Classes) viewer is a tool that allows users to view, analyze, and collaborate on building information models (BIM) saved in the IFC file format. IFC is an open, neutral file format for BIM data, which is used to facilitate collaboration between different software and systems.
A Revit viewer, on the other hand, is a tool that allows users to view, analyze, and collaborate on building models created in Autodesk Revit, which is a proprietary software for BIM.
An online IFC and Revit viewer allows users to view and analyze building information models saved in either the IFC or Revit format through a web-browser, with no need to install the software on their own device. This allows for easy collaboration and access to the model from any location with an internet connection. Some examples of online IFC and Revit viewers are Bimcollab ZOOM, BIM Vision, and BIMx.
In researching all the available options, we believed that this list is the best:
1-Autodesk Viewer
Autodesk has now released a fantastic new file viewer, which is a viewer for revit files and many other extensions, it is free, takes over 50 file-formats including Revit, and needs no software.
It is capable of reading a wide range of file formats, including:
2D file formats:
3D file formats:
.3ds
.dwf
.dwfx
.dwg
.dxf
.ifc
.fbx
.obj
.rvt
.rfa
.sat
.stl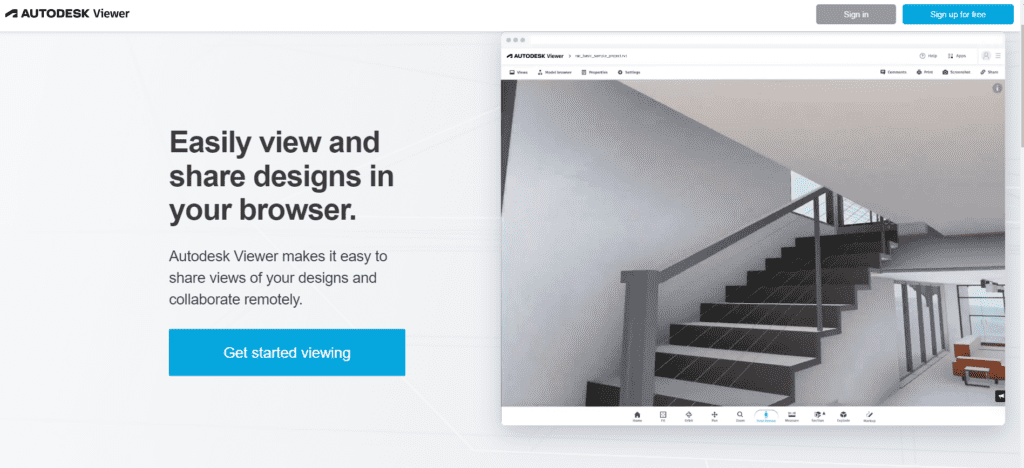 It is an online-based viewer for Revit files with an easy drag and drop interface, you can find it here via this link
Features of Autodesk Viewer
It is a free online tool that allows users to view, measure, and mark up 2D and 3D design files. We've already published an article about Revit viewer online and offline. Some of the main features of Autodesk Viewer include:
File compatibility: it supports a wide range of file formats, including AutoCAD, Revit, Fusion 360, 3ds Max, and more. This means you can view virtually any design file without having to install specialized software.
Measurement and annotation: it allows you to make precise measurements and add annotations to your designs. You can use the measurement and annotation tools to communicate design changes or provide feedback to your team.
Collaboration: itr has built-in collaboration features that allow you to work with team members in real-time. You can share designs with others and see their annotations and measurements as they are made.
Viewing options: it has several viewing options that allow you to customize your viewing experience. You can change the background color, toggle layers on and off, and use the orbit, pan, and zoom tools to navigate the design.
Mobile compatibility: it is mobile-compatible, so you can view and collaborate on designs from your smartphone or tablet.
File sharing: it allows you to share design files with others, even if they don't have an Autodesk account. You can create a link to the file that can be accessed by anyone with the link.
2- DiRoots DiStellar
DiRoots, has developed DiStellar, a free online IFC viewer tool that allows you to visualize and make changes to IFC models directly through a web browser. It supports both IFC2x3 and IFC4 file formats. With advanced search and filter options, as well as data management capabilities, DiStellar is the perfect tool for working with IFC files. Please note that DiRoots DiStellar is not a Revit Viewer.
Features of DiRoots DiStellar:
Advanced search and filters to find elements by model, category, and conditional rules (contains, greater than, etc.)
Multiple View Modes: perspective, isometric, and floor plan
Tree view to efficiently see the structure and content of IFC models
Use cutting planes to see inside the IFC models
Select and isolate elements
Select and highlight elements and turn unselected elements transparent
Quickly select elements of the same category, type, or material
3D measurement tool with 3D annotations
Show point/spot coordinates in the viewer
Visualize IFC models directly in your browser (IFC2x3 and IFC4 supported)
Export IFC model data to Excel, edit and import it back to update the property values
Save modified IFC models
Apply edges to the IFC models and control color and sensitivity
Show grid and origin gizmos
Support for metric and imperial unit systems
Take snapshots of your IFC models
Override IFC material with new desired color and transparency
Keep your data local. The IFC models are never uploaded to our server, the processing is done on your computer
Dark and light theme
Solid and gradient background colors
Languages: English and Portuguese (more coming soon)
3-BIMcollab
BIMcollab Cloud is an easy-to-use and powerful issue management platform in the cloud. Issues are directly linked to positions and objects in your BIM model. They are accessible via web browsers or directly from your BIM software. Imagine clicking an issue in your own BIM tool and being zoomed to its position in your model. You'll have all the information where it's needed to lookup, create and solve issues.
Connect your favorite BIM tools, like Navisworks, Revit, Solibri, ARCHICAD and Tekla. Access your models via CDE integrations like Autodesk Docs, Trimble Connect, Dropbox Business and more to come. Advanced reporting? Connect Microsoft Power BI and build extensive custom reports for all your stakeholders and partners.
4-Autodesk Construction Cloud ' ACC ' ( Formally BIM 360 )
BIM 360 is an Autodesk cloud-based solution Revit Viewer that allows project teams to effectively work in a collaborative environment. In the AEC industry, it connects all project stakeholders to execute projects from conceptual design through construction and ultimately project turnover.
There are two ways for sharing and viewing Revit files with BIM 360 software tools.
The first is a BIM 360 add-in app for Revit, that allows users to transfer models over a cloud-based BIM management and coordination software.
Or the other option is through BIM Collaborate Pro, which is a design collaboration and coordination tool. This software has a Revit Cloud Worksharing feature that permits collaboration on Revit models. But all collaborators must have a BIM 360 Docs account.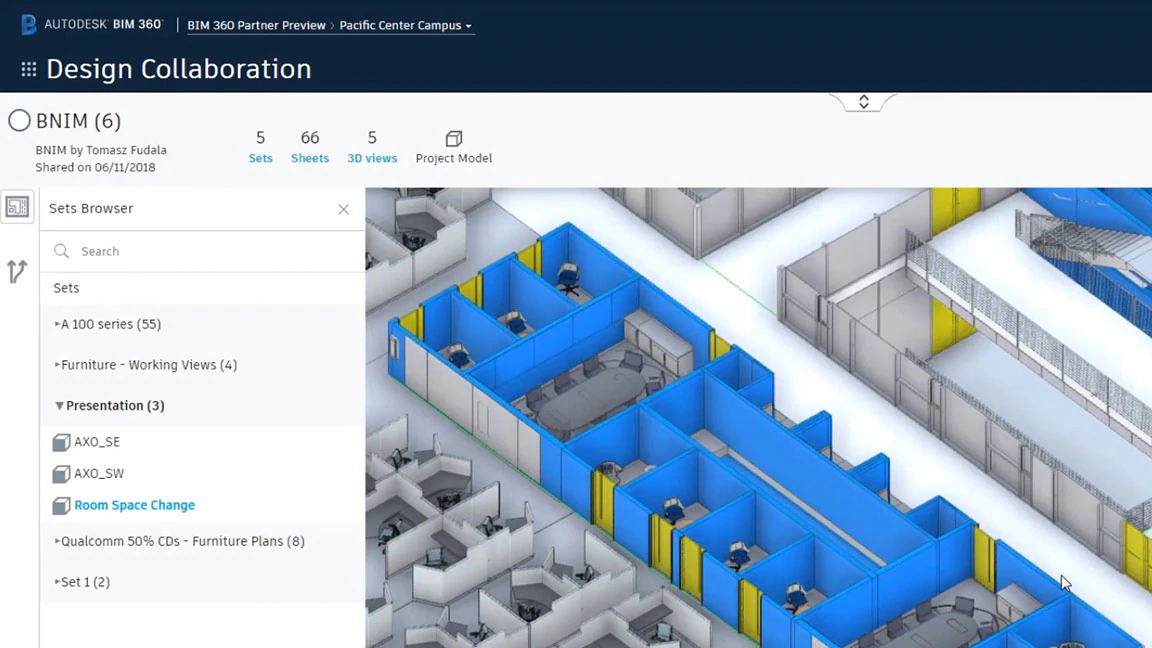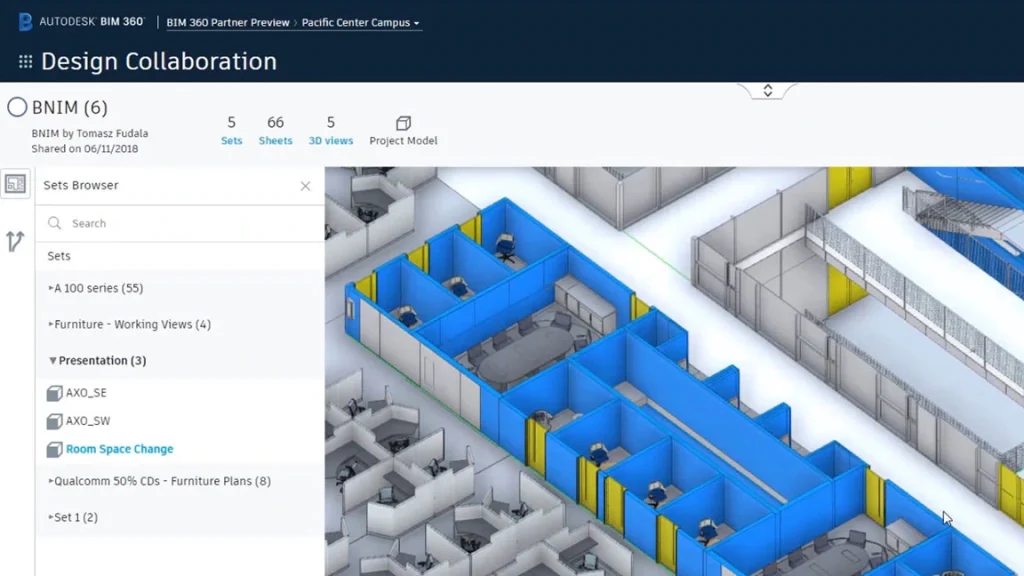 5-Navisworks
Navisworks is project review software and can be a Revit Viewer also and it allows for a variety of model review features, such as combining design data into one shared model, measurement tools.
Moreover, by using this software, users can also create synchronized views of projects along with data. Since it's an Autodesk product, it coordinates with other BIM software, including Revit.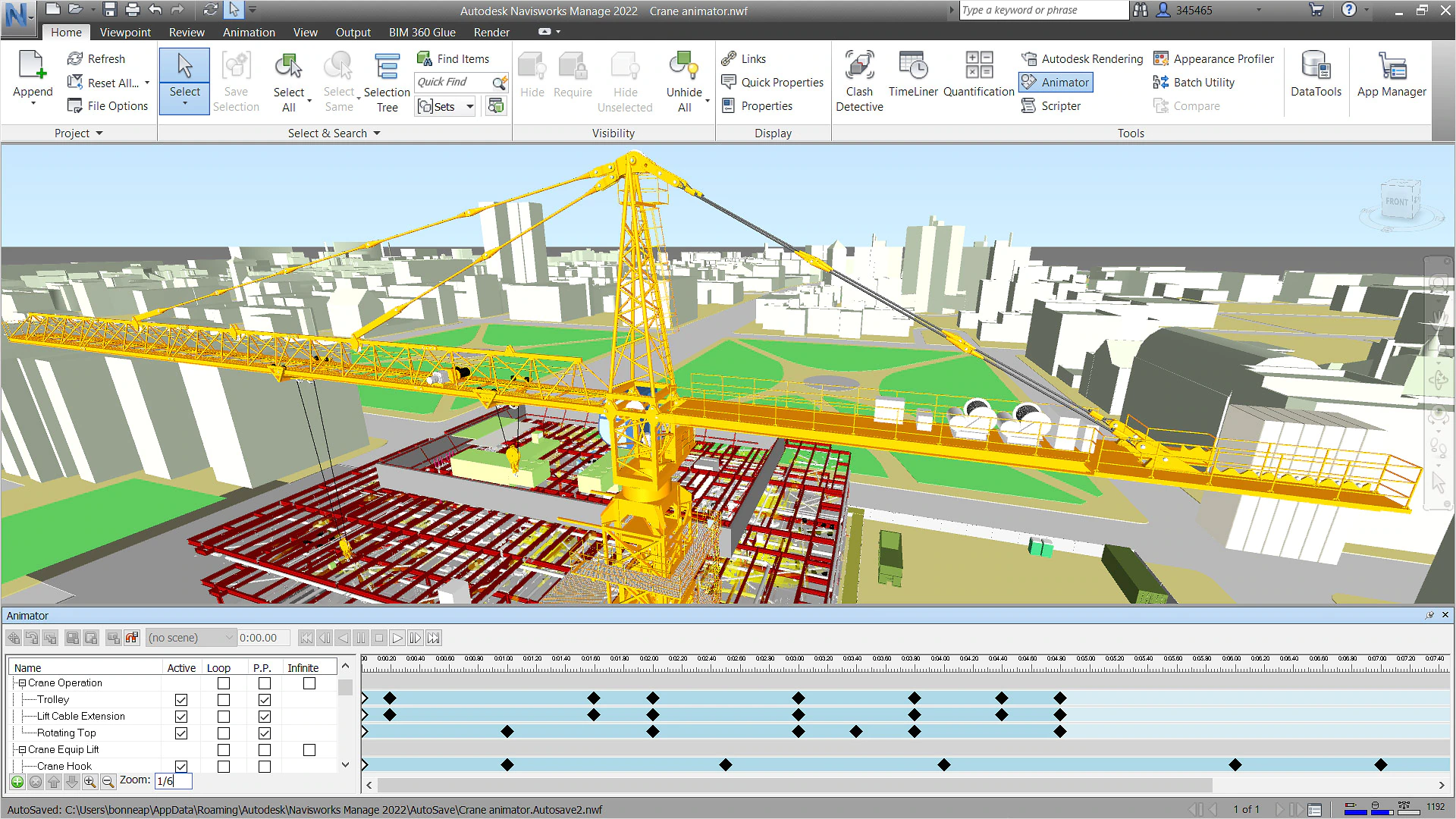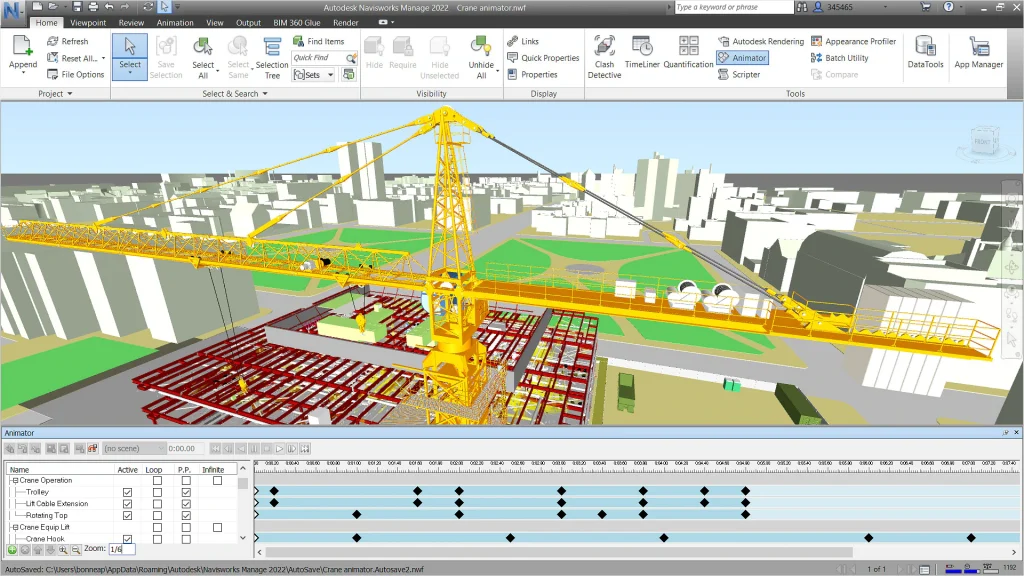 6-Modelo: Viewer for Revit files Online
Modelo is a website for viewing, publishing, and sharing Revit files. There are a lot of convenient features that come with this amazing tool. Modelo allows you to efficiently display 3D models on the web and view them on any browser or any device.
You can upload an unlimited number of Revit models from your software or your browser and embed them directly on any site you want.
7-Xuver: Viewer for Revit files Online
Xuver is an online viewing service outside of the Autodesk ecosystem that allows for the sharing of Revit models through a secure HTML link. It also provides features to make the sharing more interactive, including real-time presentation mode, section manipulation, and VR viewing.
A free downloadable plug-in quickly converts your Revit file to a .xr file format, which can be viewed through the Xuver viewer.
8-Vectorworks
Vectorworks is a non-Autodesk BIM software product and it can be also a viewer for Revit files because it can import RVT or RFA files (versions 2011-2020). It uses a workflow that's similar to the Revit environment and has the capability to allow for direct planning, design, and documentation of a project.
What is Vectorworks ? Exceptional design demands exceptional tools — a platform built to deliver absolute creative expression and maximum efficiency. At Vectorworks, we believe your design software should offer the freedom to follow your imagination wherever it may lead you, to seamlessly share your vision at any phase, and to easily interpret the information needed to make the smartest decisions every time.
I hope that you found this article useful and helpful in your research, if so, Share it with others and help our AEC Community! And if you have feedback and reviews about this Post please comment below or contact us, you're welcome.